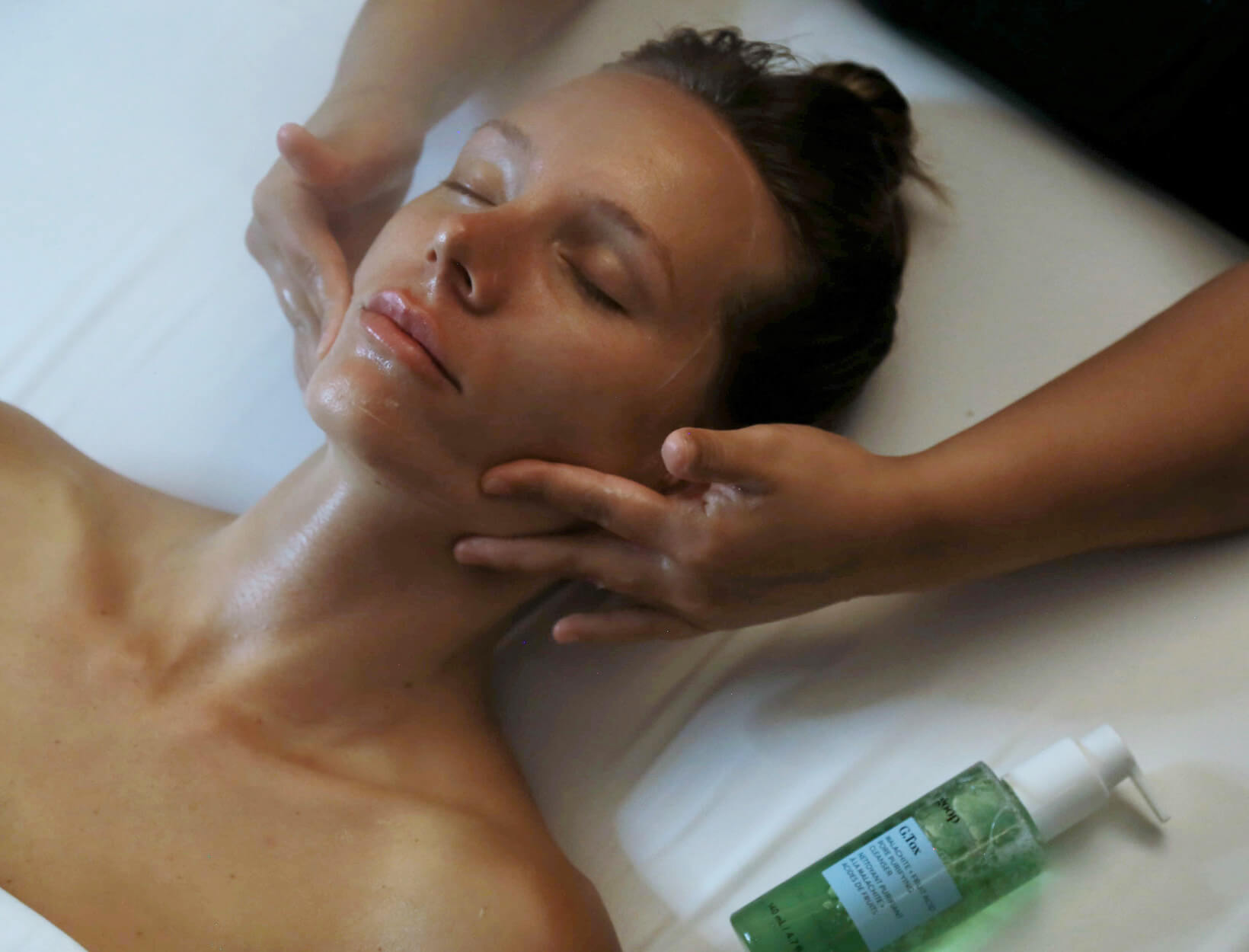 Stop-you-in-your-tracks sunsets, the way Mauna Kea juts into the bluest-ever sky, white powdery sand, an on-site Nobu, and a sleek goop boutique are only some of the reasons we're obsessed with Mauna Lani, Auberge Resorts Collection, on the Big Island's Kohala Coast. The new goop Glow Facial is rolling out exclusively at Mauna Lani's gorgeous, light-filled spa. A fifty-minute haze of subtly sculpting face massage, pore-tightening exfoliation, and intense moisturizing therapies, the facial leaves your skin impossibly glowy and firm. (Fashion director Ali Pew and SVP of communications Noora Raj Brown have already been—Noora for her babymoon—and can't stop raving.)
Below, the step-by-step for doing the facial yourself at home. The spa customizes the facial to each customer, so you should do the same, adjusting the facial to treat your skin and skin type. The only element you might miss is the massage; we suggest adding gua sha or facial rolling to get the full effect.
The goop Glow Facial
1
Feed your skin from within
Drink a glass of this powerful blend of vitamins C and E, nutrients, and carotenoids before you start. It tastes refreshingly citrusy, and the coral-colored powder mixes into a glass of water (another key for brilliant skin) to help supercharge whatever skin care you're using.*
2
Cleanse thoroughly
This gorgeous glacial-blue cleanser works for all skin types, including breakout-prone. It's swirled with antioxidants, hydrators, and softly exfoliating fruit acids to smooth away dirt, oil, grime, makeup, and pollution without stripping skin. Take two minutes to massage it in.
3
Purify and tone
If you've got oily or normal skin, follow the cleanser with the G.Tox tonic. The mix of glycolic and hyaluronic acids removes residual impurities while depositing moisture. (If you've got dry skin or need only a light cleanse, omit this step.)
4
Exfoliate
To boost glow, retexturize, and deep-clean pores, smooth on Microderm exfoliator. The combination of physical and chemical exfoliators in the whipped formula is magic—and powerful. If your skin is sensitive, skip this step (you can try using Microderm without cleansing or toning first once a week to see what your skin can handle).
5
Treat with topical
vitamin C
It's one of the most well-researched antioxidants out there, it makes any skin type look more radiant, and this one is as potent as it gets. Smooth the serum over cleansed skin and wait a beat to let it fully sink in (the amount of time it takes to dab on some lip balm is just right).
6
Pat on eye cream
When your eye area looks fresh, your entire face gets a boost. This clinically tested treatment soothes puffiness, firms, and softens dark circles—and it's adored by makeup artists for its amazing results and the way it intensely hydrates and instantly absorbs. Gently pat it onto the skin beneath and around the eyes; the soft tapping motion of your finger also soothes puffiness.
7
Moisturize
This incredible moisturizer instantly plumps the appearance of fine lines and wrinkles, fortifies the skin's barrier, and hydrates deeply. In the treatment at Mauna Lani, the aesthetician layers a few drops of firming GOOPGENES face oil over it for added nourishment when a client's skin needs it. For a less-intense dose of moisture, Glow Lotion's featherlight blend of vitamin C, sugar-derived squalane, and kakadu plum leaves skin dewy and toned.
For all skin types

goop Beauty GOOPGENES All-In-One
Nourishing Face Cream goop, $95/$86 with subscription

SHOP NOW

Add-on for dry skin

goop Beauty GOOPGENES All-in-One
Super Nutrient Face Oil goop, $98/$89 with subscription

SHOP NOW
What to Pack
Whether you're heading to an island or simply want to resuscitate your uniform as fall sets in, these essentials really hit the spot.
*These statements have not been evaluated by the Food and Drug Administration. This product is not intended to diagnose, treat, cure, or prevent any disease.