By WWOS Staff29 Aug 2021 23:26
Both men and their teams filled the stage as security and Cleveland police got in the middle of it.
It started when Paul was being interviewed by MMA reporter Ariel Helwani, and was asked why he was eating chicken fingers on stage."Chicken fingers, Tyron's a chicken," Paul told Helwani.
"It makes sense."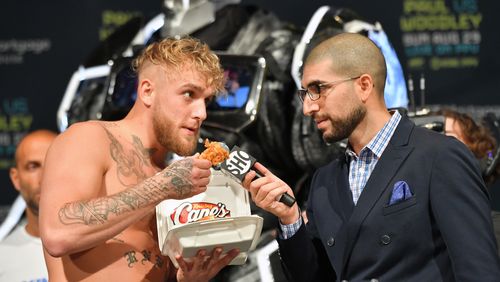 Woodley then walked over and reached out to give him packets of wet wipes, and Paul slapped them out of Woodley's hands.
He then shoved the former UFC champ away, kicked him and tried to reach for his hat, in a similar stunt he pulled on Floyd Mayweather in May.
But the YouTube sensation has since revealed he wasn't even going for Woodley's hat, firing off a late, and bizarre, claim ahead of the clash.
"I said you're dead, that was it. I tried to grab his cheeks," Paul revealed.
He followed that up with another tweet later in the day.