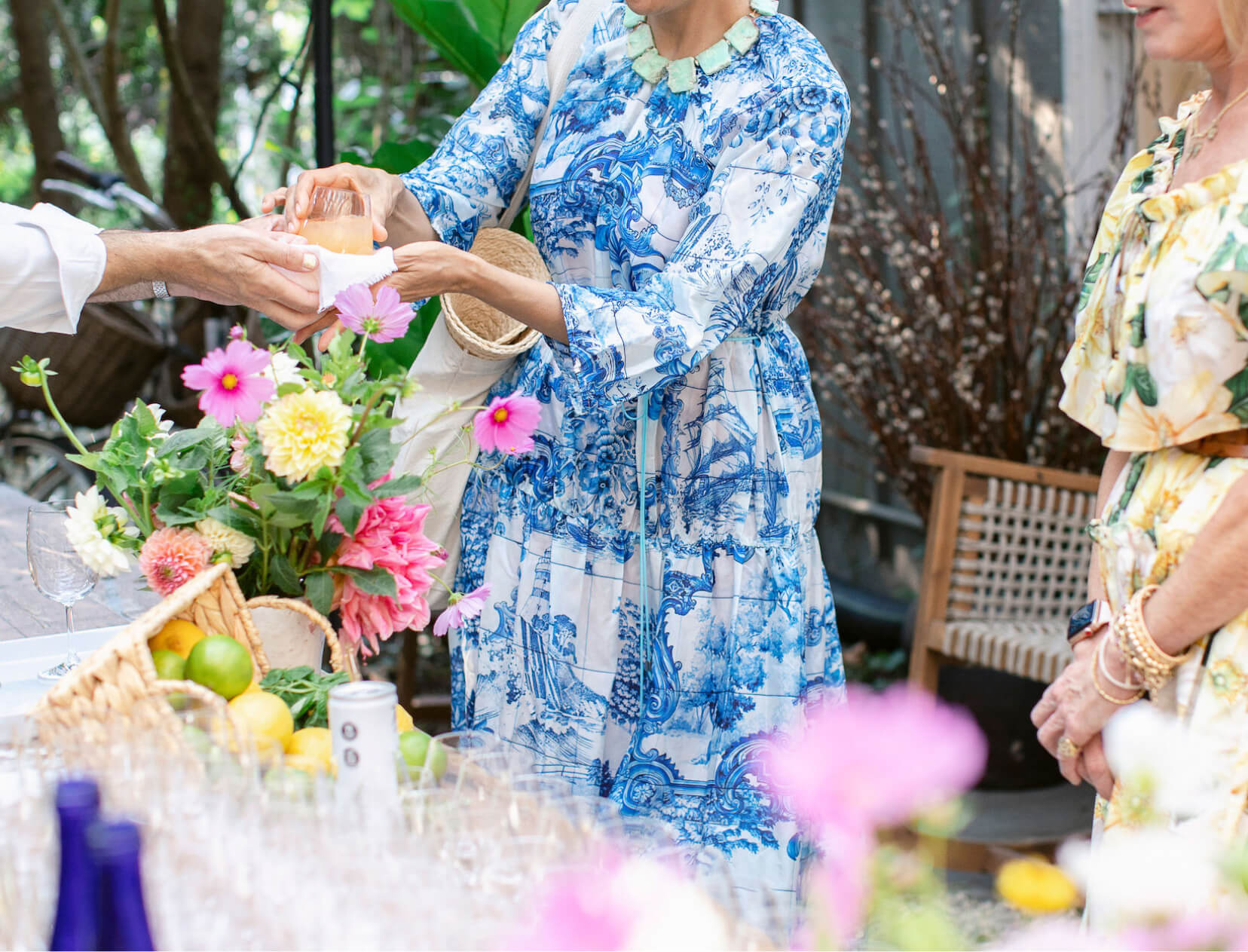 Photo courtesy of Julie Skarratt
In partnership with our friends at Miami Cocktail Company
Because parties are way more fun when the host is also having a good time: a superior canned spritz, a more-is-more grazing table, eclectic global tunes, and a few more ways to stress less and keep the vibes right all night long.
A One-and-Done Cocktail Bar
The canned spritzes from Miami Cocktail Company are our number one choice because they're so delicious, they're made with top-quality ingredients, and they really come through on the party circuit. They're a carefree host's dream: perfectly mixed, individually portioned, and essentially requiring no cleanup. We don't need to say more.
You could certainly put out a selection of the many flavors, but there is something cool and confident about having a single showstopper. This summer, which we've casually dubbed "the summer of the spritz," go for our limited-edition goop x Miami Cocktail Company collaboration, the Limonata SPRITZ. It's citrusy, subtly herbaceous, and effervescent, and it goes with everything. Plus, a portion of the proceeds is going to one our favorite philanthropic partners, charity: water, to help serve communities without access to clean water. That's something we can all raise a glass—or a can—to.
Minimalist Décor
Graze Area
There is a time and place for multicourse dinners, and this isn't one of them. Instead, put together a big grazing table. Now if you Google "grazing table," you will find elaborate long tables covered end to end with salami rosettes and fanned crackers, and if you're up for that, kudos and godspeed. But if you want to take a less complicated route: To us, the beauty of a grazing table is that it's fun and celebratory for guests—and highly doable for hosts. A combination of crudités and dip, cheese and crackers, and some kind of protein—charcuterie, shrimp cocktail, or a DIY oyster-shucking station would work—will feed a group of varied ages, tastes, and dietary needs. We also love that this strategy relies on little to no cooking. It's more about curating and arranging, which is the fun part.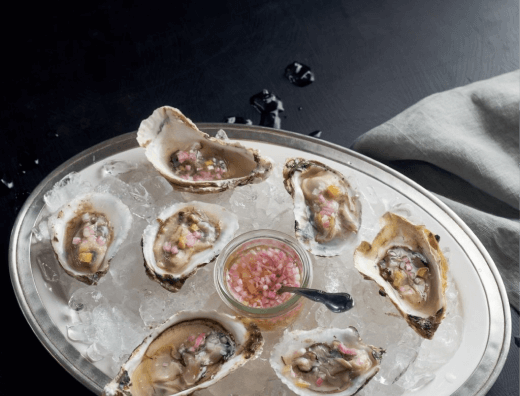 Preserved-Lemon Mignonette
This riff on a classic mignonette has a little fermented-salty bite from the preserved lemon, which is balanced by the bright, clean flavor of the white wine vinegar. Serve alongside some fresh horseradish, cocktail sauce, and lemon wedges at your DIY oyster bar.
GET RECIPE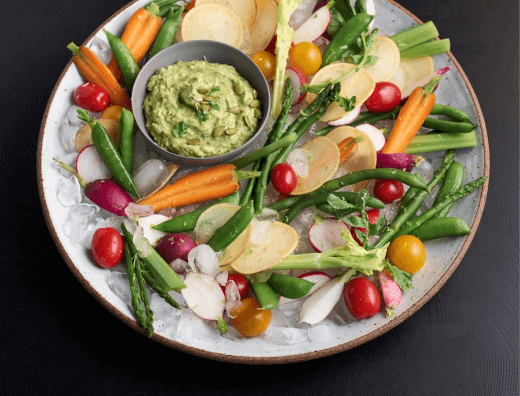 Summer Crudités with Avocado Dip
The combo of crunchy veggies and creamy, slightly spicy dip is our new summer favorite.
GET RECIPE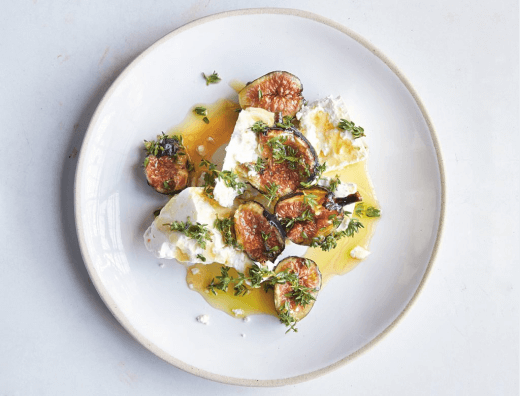 Feta, Figs, Thyme, and Honey
Peak-season figs are spectacular on their own, but serving them alongside salty feta elevates their flavor. A bit of honey, a little thyme, and heat from the cracked black pepper make for a memorable, harmonious bite.
GET RECIPE
A No-Brainer Playlist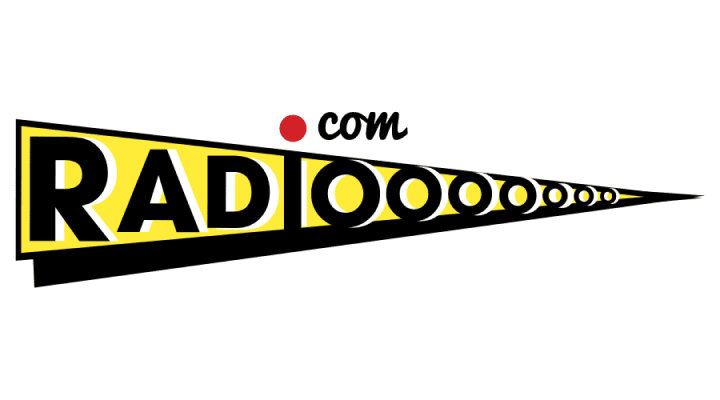 One of the worst moments you can have as a host is when you realize it's a little too quiet and your party playlist ended before you could cue up the next one. It's a time-sensitive task that tears your away from your guests, and you can never remember the name of that great bolero album when the pressure is on. Skip the fuss and playlists entirely and stream Radiooooo instead. There's a map on the website along with a timeline, and all you have to do is choose a decade and a country and it will play popular music from that region and era. There are options for slow music (for chilling), fast music (for dancing), and weird music (for bugging out…whatever that means). You'll have the most vibey tunes serenading your guests all night long—and you'll get cred for having spectacularly eclectic taste. Try slow songs from 1970s Brazil to get you started and move your way to fast songs from 1970s Algeria. (Turns out anywhere in the '70s is fun.)
No Crying Over Spilled Anything
We all have that one friend who is prone to flamboyant gesticulation and knocking things over. Be prepared for these little accidents by having a pack of L'AVANT Collective multipurpose cleaning wipes on hand. They make quick work of wiping up spills, smell amazing (honeysuckle, who knew!), and come in the chicest packaging of any cleaning product we've ever seen—it's like you pulled out a fashionable little clutch that just happens to help you tidy up.
We hope you enjoy the products recommended here. Our goal is to suggest only things we love and think you might, as well. We also like transparency, so, full disclosure: We may collect a share of sales or other compensation if you purchase through the external links on this page.